I was contacted by a potential investor earlier this week who had approached me for my advice and guidance on the River View development in Low Street, Sunderland. Whilst he was an experienced investor he'd not bought previously in Sunderland and having looked at the prices and potential returns of the apartments in River View wondered "what's the catch?"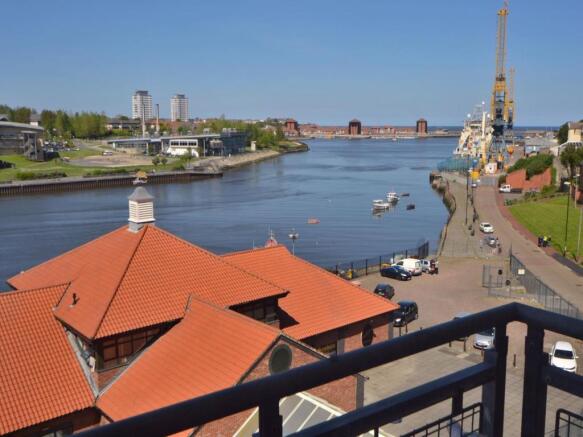 The development of around 90 two and three bedroom apartments was built in 2004 and gives enviable views over the River Wear towards the harbour, The National Glass Centre and Sunderland University St Peters Campus
The layout of the apartments means that they all have views over the river from the lounge (I suppose given the name of the development they couldn't really skimp on this!) and most apartments have usable steel framed balconies overlooking the river
The development attracts a range of tenants - there are students (both UK based and International) however they are not in such high numbers that the building becomes unattractive to working locals - this can't be said for other nearby developments such as Echo 24
In addition to the students we find that it is popular with both young couples and young professional sharers
It appeals to sharers as the 2 double bedrooms are of comparable size (not always the case with modern apartments) and there is one decent bathroom with a shower (rather than the master bedroom having an ensuite and the 'family bathroom' not having a shower which can be the case elsewhere) - see our rather whizzy 3D floorplan for the layout of a typical 2 bedroom apartment or click here to go online and see it in more detail
It also comes with secure parking
Back in 2004/5 the 2 bedroom apartments which make up 95% of the development were being sold for between £125,000 to £215,000

The range in prices is quite alarming! Clearly there will be a premium for an upper floor apartment with a better view but given the layout and floorspace will be pretty much identical, that's some premium for the view!

After the initial flurry of interest prices settled down to around the £160,000 - £180,000 mark in 2005/6
Tellingly there have been 91 transactions in the development since they were built in 2004 and only 8 of those transactions came after 2008
No sales took place between May 2008 and November 2011 and of those 8 transactions, the most recent (in Feb 2015 a 2 bedroom apartment went for £65,000) with the average price of the 2 bedroom apartment sales being £63,833
When it comes to rents in Sunderland £500pcm is the magic number and significantly more people will be searching in this price bracket than any higher price bands - with this in mind whilst 2 bedroom River View apartments have rented out at £500/495pcm since I can recall (we picked up our first one to manage back in 2008) it would be unwise to base any calculations on achieving higher rental figures any time soon
There are a handful of River View apartments currently for sale - click here for the links to
Rightmove
and
Zoopla
listings & you'll see most are being offered for between £60,000 and £75,000 but you'll see one agent has two for sale and they are looking for OIRO £115,000...the technical term for this is 'they're having a laugh'
Based on paying £65,000 and achieving £495pcm you'll get a Gross Yield of 9.1%
As a word of caution there is a lot of competition out there in the City Centre with far more 1 or 2 bedroom flats/apartments than the current tenant demand requires, meaning City Centre rents have fallen in many areas/developments and at the same time tenant expectations are rising - not a great combination for Landlords
It must be said though that River View bucks this trend somewhat - as mentioned above the rents have stayed firm at £495pcm when similar apartments elsewhere in the City have suffered rent reductions
I'm often asked about the area and it must be said that based on postcode alone River View sits in Hendon, which is perceived to be not the best area in Sunderland (it was the only area in Sunderland selected for the 'special measures' of Selective Licensing in 2010) - that said in our experience of managing a number of apartments in the development there have been no major issues in recent years
There was a period around 4 or 5 years ago when there was a spate of break-ins and the secure car park was not-too-secure but a change in block manager and a corresponding increase in security for both the parking areas and the building as a whole seemed to nip this in the bud and we've had no reports of problems with crime in the last 2 or 3 years
The walk down from the City Centre is short and it's well lit on major busy roads
This is getting into super-detail but it could have financial implications so it's worth mentioning...the building only has electric heating and we know that the immersion heaters are very temperamental (and seem to have a 10 year lifespan meaning they are starting to break down around now) and mistakes/poor workmanship with the electricity metering by the original developer has caused some problems - a few of our Landlords have been hit with heavy bills as a result
As a final work of caution, Sunderland should always be viewed as a Yield city rather than a Capital Growth city but the constant trickle of River View apartments being put on the market to sell (by owners who bought prior to 2008 and cannot afford to subsidise their losses any longer or in the worst-cases properties being repossessed) means that in the short to medium term there is likely to be very little increase in value, if any at all
Overall regular blog readers will know I like this development and it certainly makes a lot more sense if you can buy an apartment for £65,000 - £70,000 today than if you'd paid £125,000 - £215,000 back in 2004/5
If you want to chat about investing in River View, Low Street or any aspect of the Sunderland property market please give me a call on 0191 567 8577 or email neil.whitfield@belvoirlettings.com